HISTORY


Velvet- a structure of fabric and not a fiber like wool or cotton, is mostly associated with European nobility but pieces of velvet have been found in China dating back to several old dynasties. As the process of making velvet was time consuming and tedious, it was meant for rich and opulent in the golden days.

Italy, from 12th to 18th century, became the largest producer of velvet supplying to other European countries mainly for furniture, upholstery, clothing and even wallpaper. With its growing demand and popularity, velvet became synonymous with 1920s fashion.

Velvet looks rich and feels warm. Today, velvet is no more for leggings and skirts. It has evolved beyond that and one can find velvet pant suit, blazers, cocktail gowns, jumpsuits, wrap dresses and even sensuous crop tops that will up your style quotient.
STYLE IT RIGHT
Pant Suits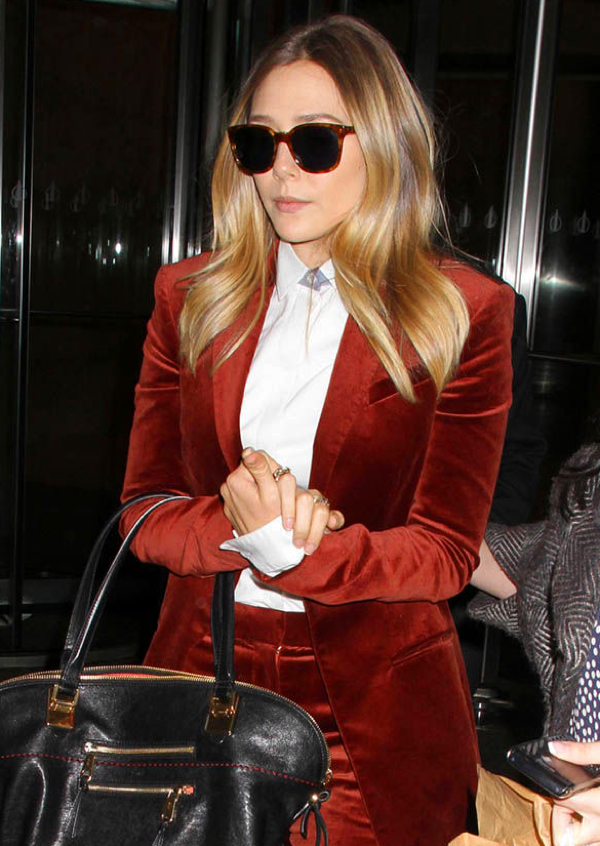 Confused whether it will become OTT or OOTD. Go for a darker shade like the one on Elizabeth and base it with a neutral color. Don't forget to wear pumps. After all it's the suit that you are wearing. And finally you will come up with the POTD.

Where to get it from?
Zara
MIDI DRESS


Try a velvet fabric dress this winter. Be sure of the fabric and the fitting.

Where to get it from?
H&M
Blazer


If you are bored of your regular loose fitted blazers, try this sheen crushed velvet this winter. Pair it up with black or blue denims and pumps. Keep the base cloth of neutral color palette. Even black works.

Where to get it from?
Mango
Velvet Lips


Neither a traditional look nor an opaque gloss, this velvet lip trend will bring out the bold factor and makes its own impact.

Where to get it from?
If confused where to buy it from, look up the velvet lip glides by NARS- its 13 shades story.
Footwear trend


Step into velvet footwear, like an ankle boot or a ballerina flat to oomph up your look.

Where to get it from?
Zara
Bag Trend


When we talk about bags, we kind of show off our style and velvet being a symbol of luxury, a velvet shoulder bag passes on the same message. A plain outfit, a monotone suit when paired with a velvety bag will bring all eyes to you.

Where to get it from?
Want a similar one, Gucci has in its store.
Choker


Choker has been a major accessory trend of 2016. From bollywood to street style, chokers were everywhere. Have you thought of bringing two trends together. How about a velvety choker.

Where to get it from?
Rush to Zara now and grab them.
SOME DO'S & DON'TS
One velvet item is enough. Don't overdo. If you want to play it safe with a velvet dress then say no to velvet clutch or shoes or blazer or anything else velvet.

Choose fine velvet. Cheaper one will do the opposite of elegance.

Do not over accessorise.

Prefer a darker shade of velvet like marsala, bottle green, royal blue, charcoal black and pair them up with minimal accessories in gold or silver or black.

Iron it well.







Image Source:
http://i1075.photobucket.com/albums/w422/olsensanonymous/ELIZABETHOLSENLIZZIERED
VELVETSUITNEWYORKCITYELIZABETHANDJAMESLEXINGTON
SUNGLASSESPYTHONHEELSWHITEBUTTONUP
BLACKBAG1.png

https://s-media-cache-ak0.pinimg.com/564x/21/8c/9f/218c9f04de4e5d24a7c2ed598df3ac65.jpg

https://s-media-cache-ak0.pinimg.com/564x/42/60/24/426024ad820f0287c010b0175231ffc3.jpg

http://www.memorandum.com/wp-content/uploads/2016/12/smythe-green-velvet-blazer-boyfriend-jeans-rhinestone-bow-barrette-casual-holiday-style3-680x1020@2x.jpg

https://s-media-cache-ak0.pinimg.com/564x/24/31/77/243177edf8c9d331c152904cd14c3af3.jpg

https://s-media-cache-ak0.pinimg.com/564x/a1/af/43/a1af436060915fb860160dab6b6c64d7.jpg

https://s-media-cache-ak0.pinimg.com/564x/18/ed/95/18ed9526c5fdd9b68b3aea0ca70b8ad4.jpg

https://s-media-cache-ak0.pinimg.com/564x/fe/a1/68/fea1684d2fa9513f98835cfbd34adfae.jpg