Posted on March 10, 2017
Holi is just around the corner and when it comes to menswear, there aren't a whole lot of options that come to mind. People usually wear old clothes that they don't mind ruining with colour, grease, (and what not) so that they can discard them after the festival.

But sometimes you don't want to look that shabby or you might be attending a fancy Holi party so we're here to give you some simple options you can wear this Holi !
A FILMY TWIST­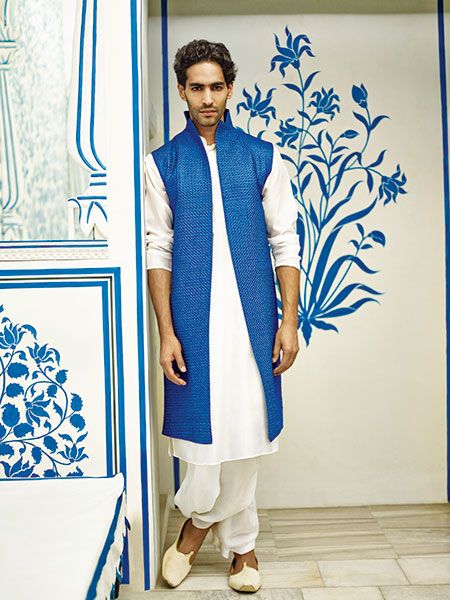 Give Holi a filmy twist with a basic white kurta pajama and a long Jacket for that Grand Holi event!

The Jacket creates a look of a double layer with the basic white kurta and adds a style to a basic garment with a contemporary twist.
GO ALL WHITE


Pairing the white kurta with white pants and white embroidered band-gala looks really classic and is probably the best outfit one can wear on Holi.

It is a classic ensemble that will never go out of style. You will be going to rock this Holi Party with this Indo Western Outfit. Don't forget your to carry your colored reflectors along!
ENGLISH FUSION


For a more chill, relaxed look you can go for a traditional looking cream colored long shirt in a thin fabric like linen, paired with white denims.

Chances are that you'll be able to salvage the denims and these linen shirts are easily replaceable. Pair with some cool, inexpensive accessories like a hat or a cap to stay updated with men's summer fashion.

Some traditional stuff is mixed with the western ones as to create some new fashion statement this Holi. Sneakers and high ankle boots are all time favorites to match up with these sexy and unique outfits.






Image Source:

https://threads.werindia.com/wp-content/uploads/2016/01/Kurta-and-long-jacket-Threads-WeRIndia1.jpg

https://s-media-cache-ak0.pinimg.com/564x/c6/44/5a/c6445a61c77cae49ae53fc21907955a8.jpg

http://www.galknows.com/wp-content/uploads/2015/07/Mens-Fashion-Style-Outfits-Ideas-47.jpg